Investing in a healthier, safer community is a win-win
A corporate partnership with Bethany Community Support is a relationship built on trust, shared values and commitment to strengthening our community. By partnering with us, you'll be providing support for our community's most vulnerable children, families and individuals.
As a not-for-profit organisation, we are funded by Federal and State Government funding, but also rely on program partners, sponsors, donors and philanthropic support to continue to adapt, enhance and increase our services.
Our strong reputation for agility, innovation and collaboration means we have been able to reduce barriers that create disadvantage and support people to contribute to the social and economic development of their communities. We have pioneered initiatives like the Men's Family Violence Intervention Centre in South Geelong and actively participate in research and service evaluation, often partnering with tertiary institutions and funding bodies.
Inspiring partnerships can deliver social impact for communities and real benefits for your organisation
Partnership opportunities:


Campaign and event sponsorship

Staff fundraising activities (with company matched donations)


Pro bono professional support


We'll work with you to build a partnership that enriches your workplace and provides long term sustainable impacts to the wider community.
More information
If you would like to know more about your organisation partnering with us please contact our Community Engagement team
Frequently asked questions about our Corporate partnerships
Case Study
Warrnambool'

s Collins Booksellers encourages South-west residents to support people doing it tough experience the joy of reading.
The annual Book Bunnies Appeal asks customers to purchase any children's book within store which is then distributed to the most vulnerable members of the community by Bethany's community support. 
The participating customers are provided 25 per cent off the price of the pledged book. A cost Collins Booksellers covers.  
Collins Booksellers Warrnambool manager Michaelie Clark said "Our commitment to our region is very important to us.  
"We believe this campaign helps bring a bit of joy to families who are struggling, as well as providing the flow on benefits of aiding literacy, promoting critical thinking and creativity, nurturing a positive relationship with books, reading, learning and gaining new perspectives." 
The Appeal has been running since 2018 and has provided over 450 individual books valued at over
$6,000
to the children who need them most.
BOOK BUNNIES: Collins Booksellers staff Lisa Ward and Sally Jane with some of the books that can be pledged as part of the store's Easter appeal. Picture: Chris Doheny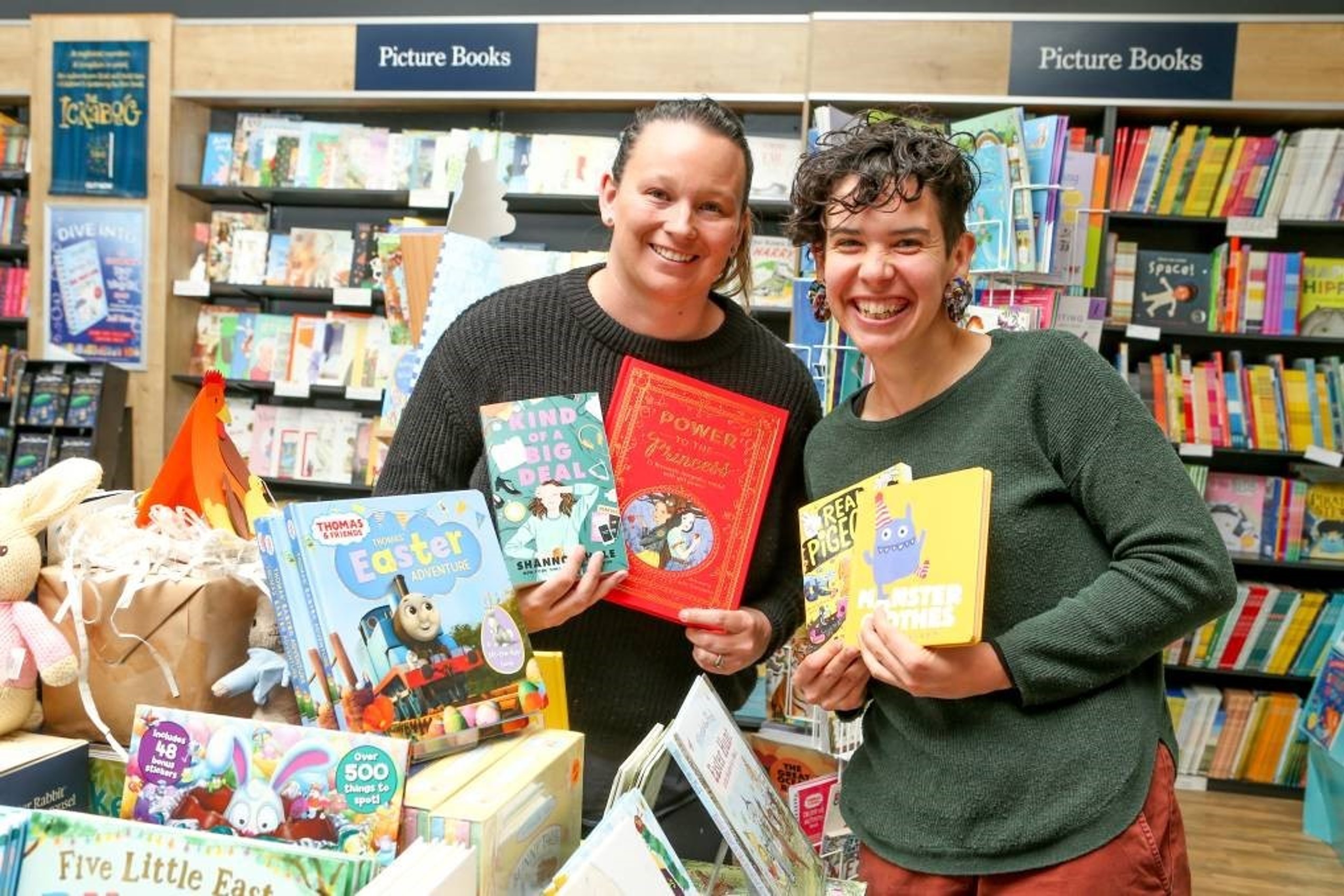 "Sometimes things need to be left to the experts in their field to enable others to be helped, however these experts also need support and assistance to help them do their job and the Bendigo Bank has proudly supported Bethany over many years to help support them behind the scenes in the work that they do. Bethany has been a long-time supporter in the Geelong and surrounding community, providing all types of programs and services that have a direct impact on improving people's lives. Something that aligns perfectly with the bank's values in helping the community."
Chris Barker, Senior Branch Manager
"bay 93.9 values our long standing partnership with Bethany Support Services. The incredible work the team does in our community to support so many families and individuals is remarkable. Our annual bay 93.9 Bethany Giving Tree Appeal highlights the generosity of our community and we are so happy to be in a position to highlight Bethany's work but also give back to those who need it most. To know that over 10,000 children will wake up with a gift on Christmas day thanks to the hard work of both bay 93.9 and Bethany is beyond incredible."
Andy Mathers, General Manager
"The Banks teams have assisted in the inaugural Bethany Ball, and have enjoyed every aspect of hearing the success stories and being able to see the great support that Bethany provides to Geelong.  The Bendigo Bank values it's long term relationship with Bethany and look forward to working in partnership with them for many years to come."
Chris Barker, Senior Branch Manager
"Ramsey Property group are very proud of our association with the Bethany Group.
Given the particularly tough past couple of years the work of Bethany in supporting vulnerable families in need is more important than ever.   The Geelong Giving Tree Appeal is a wonderful way to give something back to those experiencing hardship. We are very fortunate as a community to have organisations such as Bethany looking out for those of us who need a helping hand."
Samantha Ramsey, Director, Ramsey Property Group
"Over the last few years the Bendigo Bank has sponsored the Bethany Superhero Awards, an incredible event that recognises some amazing individuals within the Greater Geelong region. The nominations, which are completed by the children, tell some inspiring stories that the staff of the Bank believe need to be heard.  This long term relationship has provided the Bendigo Bank staff with a connection to the specialist programs that Bethany runs."
Chris Barker, Senior Branch Manager
"Australian Centre for Disease Preparedness Social Club, CSIRO (ACDP) is proud to be a supporter of the Bethany Giving Tree appeal. While Christmas is a time of celebration and happiness for so many, for an increasing number of families in Geelong and surrounds experiencing hardship, the holiday season can be incredibly difficult. The Bethany Giving Tree gives ACDP staff the opportunity to fully embrace the spirit of giving and in turn share that joy and hope with others in our community." 
Liz Maddern, ACDP Social Club